Gooseberries are a truly northern fruit. They are related to currants and grow on small shrubs. Thorny stems bear greenish-purple grape-sized fruit that usually ripen in July. The berries can be eaten as is or used in preserves or baked goods. For best eating, try the 'pixwell' variety.
Blue Gooseberry Pie (adapted from Canadian Living)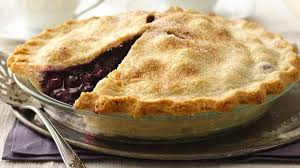 Pie crust for one 9 inch double crust pie
2 1/2 cups fresh gooseberries, washed and stemmed
1 1/2 cups fresh or frozen blueberries
2 teaspoons lemon juice
1 cup granulated sugar
1/4 cup all-purpose flour
1 teaspoon grated lemon zest
1 pinch salt
1 pinch nutmeg
1 tablespoon butter
1 egg yolk
2 tsp sugar
Preheat oven to 425.  Lay bottom pie crust gently into a 9 inch pie plate. Trim over hang to ¾ inch.
Combine berries, lemon juice, sugar, flour, lemon zest, salt and nutmeg in a large bowl.
Pour berry mixture into the pie crust and dot with butter.
Brush the rim of the pie crust with water. Fit the top crust over the filling and trim to fit. Press both crusts together, seal and flute decoratively around the pie plate. Whisk egg yolk with 1 tablespoon of water and brush all over the top crust. Sprinkle with sugar. Cut 4 steam vents in center.
Place pie plate onto a baking sheet into the bottom third of your oven and bake for 15 minutes. Reduce heat to 350 and continue baking for another 40 minutes until crust is golden brown and pie filling is bubbly.
Cool on rack and serve with vanilla ice cream.