The color grey may seem like a dull color to use in your garden, but it makes a wonderful backdrop for other vibrant colors and ties together a variety of colors for an eye-pleasing, unified flower display. Many grey leaved plants are also drought tolerant because they reflect more of the sun's drying rays. Consider one or more of these grey-leafed perennials next time you're in search of something new to add to your garden:
Brunnera 'Jack Frost' (Brunnera macrophylla)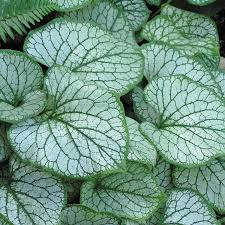 The big heart-shaped leaves on this plant make a lovely foil for bright spring bulbs. Small, brilliant blue flowers bloom late spring. Snip off the spent flower stalk after it's done blooming to keep it looking its best. Grows up to 12 inches in shade to partial shade.
Artemesia 'silver mound' (artemesia schmidtiana 'nana')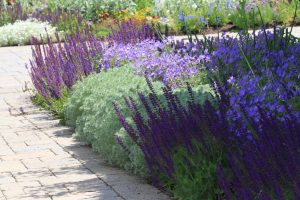 Fine silver foliage grows into soft, fluffy mounds 12 inches tall. The beautiful texture and silvery color compliments vibrant or pastel colors. Drought tolerant once established.
Russian Sage (Perovskia atriplicifolia)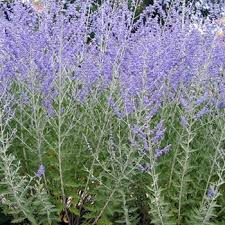 Not a desert kind of sage, but a woody, robust perennial growing to 4 feet topped with plumes of purple flowers late summer.  Drought tolerant once established.
Lamb's Ear (Stachys Byzantina)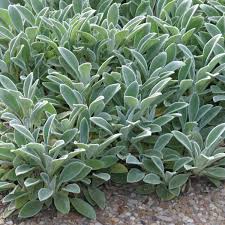 This plant sports incredibly soft, fuzzy foliage that grows vigorously in any sunny spot. Makes a great ground cover with spikes of light pink flowers that attract hummingbirds and bees. Drought tolerant once established.
Moonshine Yarrow (Achillea millefolium 'moonshine')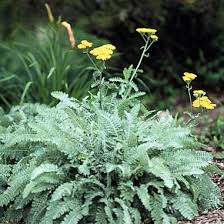 Vibrant lemon yellow flower clusters top the ferny, silver foliage on this durable plant. The flower stems can grow up to 30 inches, making these a good choice for cut flowers. Attracts butterflies and is drought tolerant once established.
Wooly Thyme (Thymus pseudolanuginosus)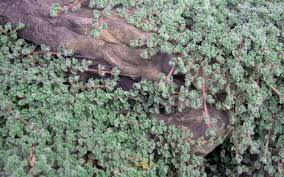 Perfect in walkways or rock gardens, fragrant wooly thyme can be walked on and is the best choice for planting between flagstone pavers. Petite lavender flowers bloom mid-summer. Plant in well-drained soil. Drought tolerant once established.
Blue Oat Grass (Helictotrichon):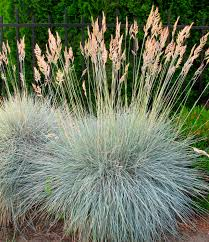 Spiky, blue-grey foliage is topped with long, arching stems of seed heads. Blue Oat Grass contrasts nicely with blue or purple flowers and plants with burgundy foliage. Grows into a rounded spiky clump 2-4 feet tall and 18-24 inches wide.