4th Annual Big Zucchini Contest August 13th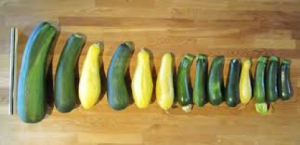 How big is your zucchini?
It's almost time for our annual Big Zucchini Contest.  Bring in your homegrown zucchini for judging between 9:00 am and noon on Saturday, August 13th. Zucchini must be grown in Teton County Idaho or Wyoming. Contest is free to enter and fun for all ages.  One entry per household.
The winner gets bragging rights and a $50 MD gift card!
August Clearance Sale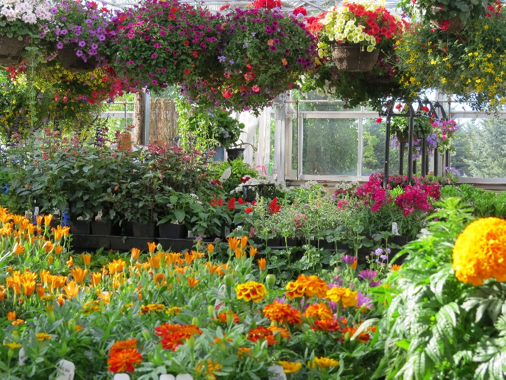 It's time to give our plants a home. Stop by and scoop up some terrific deals!
Annuals, Veggies and Herbs: 75% off
Perennials: 40% off
Connect with us
MD Nursery on Facebook
Marigold Cafe on Facebook
Flower Market at MD on Facebook
MD Nursery on Pinterest
MD Nursery on Instagram
Teton Valley Fair: August 6-13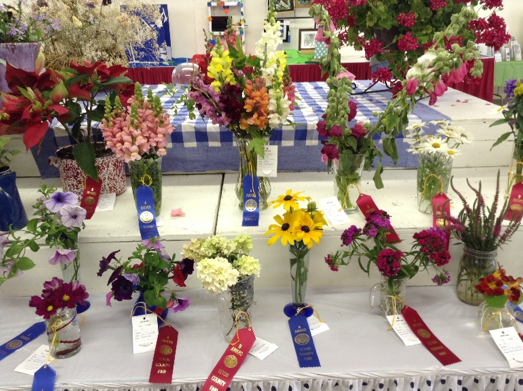 Bring Your Best! Since 1923, Teton Valley residents have been entering their best garden, kitchen, sewing, art, home furnishing and photography projects in the county fair. All ages and abilities can enter and will receive a ribbon. To enter, drop off your items at the fair building between 12 pm and 7 pm on Tuesday, August 9th. For a complete list of entry categories click here for a copy of the fair book, open class entries are on Pg 15.  For more info call: 208-313-6930.   Thank you and we hope to see you at the fair!
Shrubs and Trees for Screening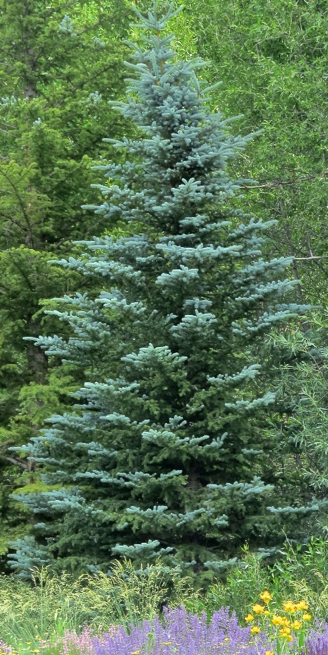 Screening is an important part of landscaping. We all love our mountain views, but the view your neighbor's RV? Not so much. Screening eases the eyesores and adds beauty, privacy and interest to your property.
Before planting anything, be aware of how tall and wide a particular plant will grow. Proper placement and spacing will allow for healthy growth and spare the headache of crowded plants down the road.  Take the time to visualize what you would like to screen. Look at the site from different vantages: from inside your home, from your deck or from your driveway.   You may want a straight hedge or a combination of a few plants in differing heights.
These hardy trees and shrubs will help block out the unsightly views:
Colorado Spruce: These big, beautiful conifers are our best seller season after season. Dense branching covered with bluish-green needles offer year round screening. Mature height is 60 feet mature width is 20 feet.
Peking or Hedge Cotoneaster: This durable deciduous shrub has dense branching, helpful for screening even after the leaves have dropped. Rounded shape up to 6 feet tall and wide with glossy deep green foliage. Cotoneaster is a great choice for a hedge and takes well to trimming. Red fall color.
Siberian Peashrub: A great choice for a tall, drought tolerant shrub. Dense branching helps screen in winter. Pretty yellow flowers bloom late spring. Grows up to 15 feet tall and 10 feet wide.
Mugho Pine: This is the best low growing evergreen in our region. Ball-shaped shrub with long needles up to 6 feet tall and wide.
Canada Red Chokecherry: In its shrub form, this regional staple will grow up to 15 feet tall and 10 feet wide. Though the branching is not as dense for screening in winter, the deep purple foliage makes a nice contrast combined with other plants and will screen well until fall.
Alpine Currant: This is one of best choices for a lower growing screen. Dark green foliage and dense branching grow up to 5 feet tall and wide.
Dogwood: These hardy shrubs grow up to 8 feet tall and wide. These natives have the added bonus of vibrant red stems for lovely winter contrast.
Swedish Aspen: These gorgeous aspen grow up to 40 feet tall and 10 feet wide. Their narrow profile make these ideal for closer spacing to offer a tall screening effect. Vibrant orange-red fall color make these a standout.
What bugs us: Blister Beetle
Blister beetles are named after their poisonous secretions of the chemical cantharidin. This chemical irritates the skin on humans causing blisters.  Cantharidin was once used as a remedy for wart removal. Blister beetles are about ½ inch long soft-bodied beetles. Their antennae are about a third as long as their bodies. There are hundreds of species ranging in color from black, grey, striped or solid. In their larval stage, blister beetles are beneficial, seeking and consuming grasshopper eggs. In their adult form, however, these pests can damage vegetables, flowers or shrubs.
Routine inspection of vegetable and flower beds will help you to become aware of a problem before it gets out of hand. At the first sign of infestation, one or more of these measures can be taken to get rid of these pests:
Hand picking: Using gloved hands, remove beetles from plants. Dump into a bucket of soapy water or squish them.
Row Cover: This will keep migrating beetles off your plants but will not help if they are already present.
Diatomaceous Earth: Sprinkle on and around affected plants.
Spinosad: An organic pesticide can be sprayed on plants. Always read label before applying.
MD Excavation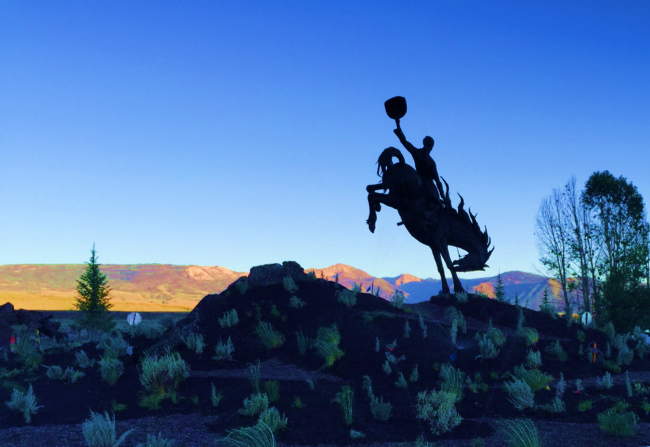 The MD Excavation department provides the base for many of our landscaping projects. From grading and drainage to creating berms and installing boulders, this team creates the backbone of the landscape that follows. This summer, we have had the privilege of installing a beautiful bronze bronco statue at the Jackson Hole airport. The project incorporated beautiful boulders extracted from our rock quarry in southeastern Idaho. Native perennials, shrubs and trees were added to complement the stunning setting.
To learn more about our excavation services, click here
Recipes from the Garden: Weeknight Sesame Noodles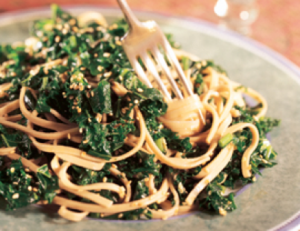 This recipe is very adaptable. It's a great way to use up the bounty of greens from your garden or what has been lingering in your fridge for a while. Feel free to play around with this recipe depending on what you have on hand. Broccoli, mushrooms or red pepper are all possibilities!  It comes together quickly for a nourishing weeknight meal.
6 cups of washed and chopped greens such as kale, chard, bok choy, cabbage or spinach
1 or 2 carrots, peeled and finely sliced
1 TBS vegetable oil
2 cloves garlic, minced
Pinch of red pepper flakes
1 pound of pasta such as linguine, udon, whole wheat spaghetti or rice noodles
2 tsp sesame oil
2 TBS soy sauce or tamari sauce plus extra for serving.
2 TBS sesame  seeds
Combine berries, lemon juice, sugar, flour, lemon zest, salt and nutmeg in a large bowl. Bring a large pot of salted water to a boil. Add your noodle of choice and cook according to package directions.
Meanwhile, heat the oil gently in a large skillet or wok. Add the garlic and red pepper flakes and stir until fragrant. Add the greens and carrots and stir to coat in oil. Add a quarter cup of water and cover. Allow the greens to cook until tender, adding a bit more water if necessary, but still bright green about 4-5 minutes. Remove from heat.
Once pasta is cooked and drained, stir in sesame oil, soy sauce, greens mixture and sesame seeds. Combine well and serve, passing soy sauce for additional seasoning if desired.
Our Favorite Things

Trees, Shrubs and Perennials. Would you like to know which plants we love? Be sure to swing by our 'Staff Picks' display in the greenhouse to find out which trees, shrubs and perennials are our faves. We love the input our staff has to offer and we hope you do too!
Helpful Links