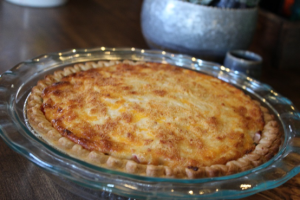 Our retail staff member, Alyson loves to cook and shared her recipe with us. Take advantage of September's bounty and use the best tomatoes you can find either from your garden, your neighbor's or the farmer's market. Be sure to drain tomatoes thoroughly as directed, otherwise you'll have a soggy (though still tasty!) pie.
5 medium tomatoes, sliced
10 fresh basil leaves, chopped
½ cup chopped red onion
1  9 inch deep dish pie shell, pre baked until light brown
1 cup shredded gruyere cheese
1 cup shredded cheddar cheese
¾ cup mayo (or half mayo, half plain yogurt)
2 TBS grated parmesan
Salt and pepper
Preheat oven to 350 F.
Place the sliced tomatoes in a single layer in a colander set over a sink. Sprinkle with salt and allow to drain for 10-15 minutes. Pat dry with paper towels to ensure most of the excess moisture is out. Layer the tomato slices, basil and onion in the pie shell.  Season with salt and pepper. Combine the gruyere, cheddar and mayo. Spread topping over the tomato mixture and sprinkle shredded parmesan on top. Bake for 30 minutes or until lightly browned. Cut into slices and serve.
Yummy. Thanks, Alyson!